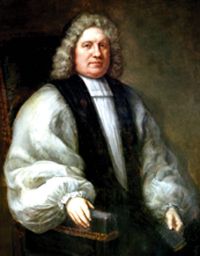 Narcissus Marsh
Hannington (Wiltshire) 1638 - Dublin 1713
Clergyman and scholar, Marsh studied at Oxford and was ordained in 1662. He became provost of Trinity College, Dublin in 1679 and Bishop of Ferns and Leighlin in 1683, but after the accession to the throne of James II he fled to England (1689). He returned to Ireland two years later, and was consecrated Archbishop of Cashel (1691), then Archbishop of Dublin (1694) and Archbishop of Armagh (1703), as well as being many times a Lord Justice of Ireland. He founded Marsh's Library (1701), encouraged the study of the Irish language and helped found the Dublin Philosophical Society. His oriental manuscripts are kept at the Bodleian Library of Oxford.
Main works: Institutiones logicae (Dublin 1681); Introductory Essay to the Doctrine of Sounds (Oxford 1684).
Bibliography: N.J.D. White, Four good Men: Luke Challoner, Jeremy Taylor, Narcissus Marsh, Elias Bouhéreau, Dublin, Hodget Figgis & Co. 1927; M. Mc Carthy, Introduction, in Judaeo-Christian Intellectual Culture in the Seventeenth Century. A Celebration of the Library of Narcissus Marsh (1638-1713), A.P. Coudert, S. Hutton, R.H. Popkin, G.M. Weiner (eds.), Dordrecht, Kluver 1999, pp. VII-XX; Scholar Bishop: the Recollections and Diary of Narcissus Marsh, 1638-1696, ed. by R. Gillespie, Cork, Cork University Press 2003; L. Simonutti, Biblioteche anglicane del Sei-Settecento e filosofia d'Oltremanica, in Biblioteche filosofiche private in età moderna e contemporanea, Atti del Convegno di Cagliari, 21-23 aprile 2009, a cura di F.M. Crasta, Firenze, Le Lettere 2011, pp. 109-124.
O.C.
last modify: 2011-05-09 15:32:09