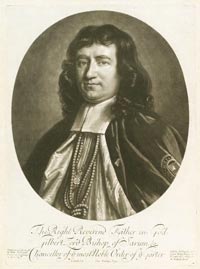 Gilbert Burnet
Edinburgh 1643 - Salisbury 1715
Under Construction. This page is in the process of being edited
A British prelate, historian, and theologian. He accompanied William III from Holland to England in 1688 as his chaplain, and was made bishop of Salisbury in 1689.
Main works: History of the Reformation of the Church of England (1679, 1681, 1715), Exposition of the Thirty-nine Articles (1699), A History of his own Time (1723, 1734).
Bibliography: Th. Babington Macaulay, The History of England from the Accession of James the Second. Popular Edition in Two Volumes, London, Longmans 1889; M. Greig, Burnet, Gilbert (1643–1715), Oxford Dictionary of National Biography, Oxford, Oxford University Press 2004; L. Simonutti, Biblioteche anglicane del Sei-Settecento e filosofia d'Oltremanica, in Biblioteche filosofiche private in età moderna e contemporanea, Atti del Convegno di Cagliari, 21-23 aprile 2009, a cura di F.M. Crasta, Firenze, Le Lettere 2011, pp. 109-124.
last modify: 2012-05-25 20:30:33