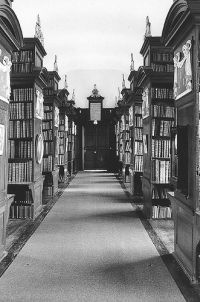 Marsh Library
Elias Bouhéreau
La Rochelle 1643 - Dublin 1719
Huguenot; he was a physician and theologian. Son of one of the Protestant pastors of La Rochelle, after the revocation of the Edict of Nantes he left France for Europe. Personal secretary of Thomas Coxe and of Lord Galway, he arrived in Ireland along with the latter and became the first librarian of Marsh's Library (1701), to which he added his own books; his Diary, held in Marsh's Library, is also of interest.
Main works: Traité d'Origène contre Celse, ou Défence de la religion chrétienne contre les accusations des païens, traduit du grec par Elie Bouhéreau (Amsterdam, Desbordes 1700, 480 p., in 4°).
Bibliography: E. Johnston, The Diary of Elie Bouhéreau, Spottiswoode, Ballantyne 1934; G.L. Lee, The Huguenot Settlements in Ireland, Westminster (London), Longmans 1936 (Baltimore, Clearfield 1993); F.J. Boulaire, Elie Bouhéreau, immigrant Huguenot et premier bibliothecaire de la Marsh's Library, «Cahiers du Centre d'Études Irlandaises», V, 1980, pp. 7-18; M. McCarthy, Elie Bouhéreau: First Public Librarian in Ireland, «Proceedings of the Huguenot Society», XXVII, 2001, pp. 543-560; R. Whelan, Marsh's Library and the French Calvinist Tradition: The Manuscript Diary of Élie Bouhéreau (1643-1719), in The Making of Marsh's Library, ed. by M. McCarthy and A. Simmons, Dublin, Four Courts Press 2004, pp. 219-234; R. Hylton, Ireland's Huguenots and their Refuge, 1662-1745: An unlikely Haven, Brighton, Sussex Academic 2004.
O.C.
last modify: 2010-02-04 18:28:29