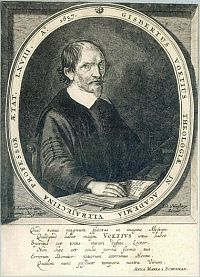 Gisbert Voet
Heusden 1589 - Utrecht 1676
Gisbertus Voetius (Latinized version of the Dutch name Gijsbert Voet) was a Dutch Calvinist theologian. He was born at Heusden, Holland, studied at Leiden, and in 1611 became Protestant pastor of Vlijmen, whence in 1617 he returned to Heusden. In 1619 he played an influential part in the Synod of Dort, and in 1634 was made professor of theology and Oriental science at the University of Utrecht. Three years later he became pastor of the Utrecht congregation. He was an advocate of a strong form of Calvinism (Gomarism) against the Arminians. His personal influence was good, and the city of Utrecht perpetuated his memory by giving his name to the street in which he had lived. In March 1642, while serving as rector of the University of Utrecht, Voetius persuaded the university's academic senate to issue a formal condemnation of the Cartesian philosophy and its local defender, Henricus Regius. According to the senate's statement, Cartesian philosophy was to be suppressed because: (1) it was opposed to 'traditional' (i.e. Scholastic/Aristotelian) philosophy; (2) young people taught Cartesian philosophy would be unable to understand the technical terminology of Scholasticism; and (3) it had consequences contrary to orthodox theology.René Descartes, "Letter to Father Dinet", first published in the second (1642) edition of his Meditations on First Philosophy.
Encyclopedia Britannica, Cambridge University Press, 191111.
Bibliography: A.J. Beck, Gisbertus Voetius (1589-1676). Sein Theologieverständnis und seine Gotteslehre, Göttingen, Vandenhoeck & Ruprecht, 2007; A. Goudriaan, Reformed Orthodoxy and Philosophy, 1625-1750. Gisbertus Voetius, Petrus van Mastricht, and Anthonius Driessen, Leiden, Brill 2006; A.J. Beck, Gisbertus Voetius (1589-1676): Basic Features of His Doctrine of God, in W. J. van Asselt und E. Dekker (ed.), Reformation and Scholasticism: An Ecumenical enterprise, Grand Rapids, Mich.: Baker Academic, 2001, pp. 205-226; Han. Van Ruler, The Crisis of Causality. Voetius and Descartes on God, Nature and Change, Leiden/New York/Köln, Brill 1995.
last modify: 2014-01-10 22:10:22