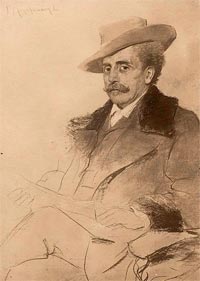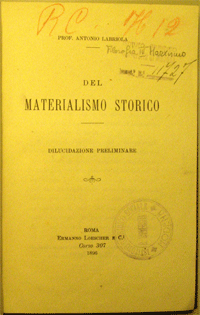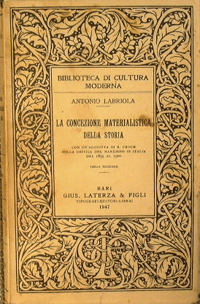 Antonio Labriola
Cassino 1843 - Roma 1904
Labriola initially studied Hegelian philosophy at the University of Naples; in the 1870s and 1880s he was influenced by the school of thought of Herbart. Professor of moral philosophy and pedagogy at the University of Rome from 1873, in that period he was politically linked to the "historic right", from which he would separate as he moved closer to radical and democratic opposition groups. In 1890, having corresponded with F. Engels, he began a systematic study of Marxist texts, of which he would become one of the greatest and most original scholars. His Saggi sulla concezione materialistica della storia (In memoria del Manifesto dei comunisti, 1895; La concezione materialistica della storia: dilucidazione preliminare; Discorrendo di socialismo e di filosofia, 1897) have left a significant mark in Italian culture due to the influence they had on Croce and on Gramsci.
Main works: Opere complete, a cura di L. Dal Pane, 3 vol., Milano, Feltrinelli 1959-1962; Scritti filosofici e politici, a cura di F. Sbarberi, Torino, Einaudi 1976; Saggi sul materialismo storico, a cura di V. Gerratana e A. Guerra, Roma, Editori Riuniti 1977; Discorrendo di socialismo e di filosofia, a cura di N. D'Antuono, Bologna, Millenium 2006; Carteggio, 5 vol., a cura di S. Miccolis, Napoli, Bibliopolis 2000-2006.
Bibliography: L. Dal Pane, Antonio Labriola nella politica e nella cultura italiana, Torino, Einaudi 1975; S. Poggi, Introduzione a Labriola, Roma-Bari, Laterza 1982; A. Burgio, Antonio Labriola nella storia e nella cultura della nuova Italia, Macerata, Quodlibet 2005; S. Miccolis, Labriola, Antonio, in Dizionario biografico degli italiani, vol. 62 (2004); A. Burgio, Labriola, Antonio, in Il Contributo italiano alla storia del Pensiero - Filosofia (2012).
A.S.
last modify: 2017-10-08 22:05:51