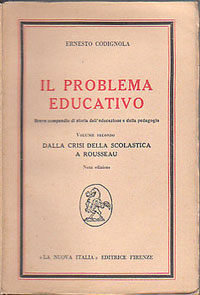 Ernesto Codignola
Genova 1885 - Firenze 1965
Italian educator, neoidealist, he taught at the University of Florence from 1923 and collaborated with Giovanni Gentile in the reform of Italian schools. He first embraced Fascism, from which he withdrew rapidly. Immediately after the war he founded the Scuola-Città Pestalozzi in Florence (1945). He directed a number of journals, including La Nuova Scuola Italiana, Civiltà Moderna and Scuola e Città.
Main works: La pedagogia rivoluzionaria (Milano 1919); Educatori moderni (Firenze 1926); Il problema dell'educazione (3 vol., Firenze 1935-36); Educazione liberatrice (Firenze 1946); Illuministi, giansenisti e giacobini nell'Italia del Settecento (Firenze 1947); Un esperimento di scuola attiva: la Scuola-Città Pestalozzi (Firenze 1954).
Bibliography: E. Garin, Intellettuali italiani del XX secolo, Roma, Editori Riuniti 1974, pp. 137-69; L. Ambrosoli, Codignola, Ernesto, in Dizionario Biografico degli Italiani, vol. 26 (1982); R. Gori, Gentilianesimo e fascismo nella biografia di Ernesto Codignola, «Critica storica», XXIV, 1987, pp. 203-96; Ernesto Codignola pedagogista e promotore di cultura, a cura di G. Tassinari e D. Ragazzini, Roma, Carocci 2003; G. Turi, Lo stato educatore. Politica e intellettuali nell'Italia fascista, Roma-Bari, Laterza 2004, pp. 168-86.
last modify: 2014-05-06 14:52:35