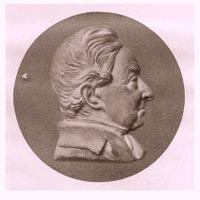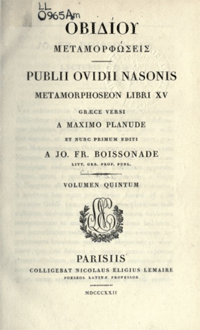 Jean François Boissonade de Fontarabie
Paris 1774 - Passy 1857
French classical scholar, was born at Paris on the 12th of August 1774. In 1792 he entered the public service during the administration of General Dumouriez. Driven from it in 1795, he was restored by Lucien Bonaparte, during whose time of office he served as secretary to the prefecture of the Upper Marne. He then definitely resigned public employment and devoted himself to the study of Greek. In 1809 he was appointed deputy professor of Greek at the faculty of letters at Paris, and titular professor in 1813 on the death of P. H. Larcher. In 1828 he succeeded J. B. Gail in the chair of Greek at the College de France. He also held the offices of librarian of the Bibliotheque du Roi, and of perpetual secretary of the Academie des Inscriptions. He died on the 8th of September 1857. Boissonade chiefly devoted his attention to later Greek literature: Philostratus, Heroica (1806) and Epistolae (1842); Marinus, Vita Procli (1814); Tiberius Rhetor, De Figuris (1815); Nicetas Eugenianus, Drosilla et Charicles (1819); Herodian, Partitiones (1819); Aristaenetus, Epistolae (1822); Eunapius, Vitae Sophisiarum (1822); Babrius, Fables (1844); Tzetzes, Allegoriae Iliados (1851); and a Collection of Greek Poets in 24 vols. The Anecdota Graeca (1829-1833) and Anecdota Nova (1844) are important for Byzantine history and the Greek grammarians.
Encyclopedia Britannica, Cambridge University Press, 191111.
Main works: Poetarum græcorum sylloge (Parisiis 1823-1826); Anecdota græca (Parisiis 1829-1833); Anecdota nova (Parisiis 1844).
Bibliography: É. Egger, Mémoires de littérature ancienne, Paris, A. Durand 1862, pp. 1-15; P. Leguay, Boissonade (Jean François de Fontarabie), in Dictionnaire de biographie française, Paris, Librairie Letouzey et Ané 1954, tome VIe, col. 856-857.
last modify: 2012-10-10 22:23:26