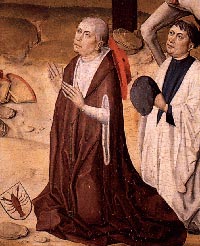 Cardinale Presbitero di San Pietro in Vincoli.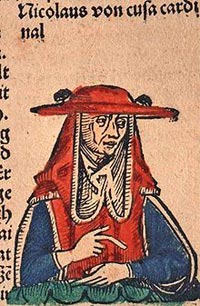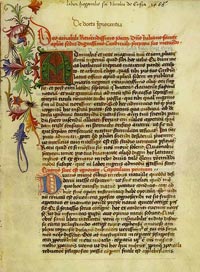 Nicola Cusano
Bernkastel-Kues 1401 - Todi 1464
Nikolaus Krebs (or Kryffs) von Kues, in latin Nicolaus Cusanus or Nicolaus de Cusa.
German theologian, philosopher, and scientist, in addition to ambassador of the Roman curia and cardinal from 1448 until 1464.
Main works: De docta ignorantia (1440); De coniecturis (1442); Apologia doctae ignorantiae (1449); Idiota (1450); De beryllo (1458); De possest (1460); De ludo globi dialogus (1463); De apice theoriae (1464).
Editio princeps: Nicolai de Cusa, Opera omnia, iussu et auctoritate Academiae Literarum Heidelbergensis ad codicum fidem edita. In Aedibus Felicis Meriner, Lipsiae-Hamburgi 1932 sgg.
Bibliography: H. Kleinen-R. Danzer, Cusanus-Bibliographie (1920-1961), «Mitteilungen und Forschungsbeiträge der Cusanus-Gesellschaft» (= MFGC), I, 1961, pp. 95-126, and revisions and updates by various authors up to 1995; G. Santinello, Introduzione a Niccolò Cusano, Bari 19872, pp. 163-181; G. Christianson (ed.), Bibliography Nicholas of Cusa, the literature through 1988, in Nicholas of Cusa in search of God and Wisdom, Leiden 1991, pp. 259-281; M. Turner, "tedesco di nazione ma non di costumi"? Nicolaus Cusanus zwischen Deutschland und Italien im Spiegel der Forschung, in AA.VV., Nicolaus Cusanus zwischen Deutschland und Italien, Veröffentlichungen des Grabmann-Institutes, Berlin 2002, pp. 25-72; J. Hopkins, Supplementary Cusanus Bibliography.
Studies on the library: J. Marx, Verzeichnis der Handschriften-Sammlung des Hospital zu Cues, Trier 1905 (rist. Frankfurt a.M. 1966); P. Rotta, La biblioteca del Cusano, «Rivista di filosofia neoscolastica», XXI, 1927, pp. 32 sgg.; B.L. Ullman, Manuscripts of Nicholas of Cusa, «Speculum», VIII, 1938, pp. 194-197; E. Van de Vyver, Marginalia von Nicolaus van Cusa in Bate-Codex 271 en andere codices van Koninklijke Bibliotheek te Brussel, «Tijdschrift voor Philosophie», XVIII, 1956, pp. 439-456; G. Mantese, Ein notarielles Inventar von Büchern und Wertgegenständen aus dem Nachlass des Nikolaus von Kues, MFCG, II, 1962, pp. 85-116; P. Wilpert, Die handschriftliche Überlieferung des Scrifttums des Nikolaus von Kues, in AA.VV., Nicolò da Cusa, Firenze 1962, pp. 1-15; Institut Für Cusanus-Forschung, Kritisches Verzeichnis der Londoner Handschriften aus dem Besitz des Nikolaus von Kues, MFCG, 1963, pp. 16-100; A. Krchnak, Neue Handschriftenfunde in London und Oxford, MFCG, III, 1963, pp. 101-108; P. Volkelt, Der Bilderschmuck der Cusanus-Bibliothek, MFCG, IV, 1964, pp. 230-253; R. Danzer, Nikolaus von Kues in der Überlieferungsgeschichte der lateinischen Literatur nach Ausweis der Londoner Handschriften aus seinem Besitz, MFCG, IV, 1965, pp. 137-161; R. Winau, Medizinische Handschriften aus dem Besitz des Nikolaus von Kues im British Museum, MFCG, V, 1965, pp. 137-161; E. Van de Vyver, Die Handschriften aus dem Besitz des Nikolaus con Kues in der königlichen Bibliothek zu Brüssel, MFGC, VII, 1969, pp. 129-145; H. Hallauer, Neue Handschriften in London, MFCG, VII, 1969, pp. 146-157; G. Santinello, op.cit., pp. 179-180; C. Bianca, La biblioteca romana di Niccolò Cusano, in AA.VV., Scrittura biblioteche e stampa a Roma nel Quattrocento, Città del Vaticano 1983, pp. 669-708; Ead., Niccolò Cusano e la sua biblioteca: note,'notabilia', glosse, in AA.VV., Bibliothecae selectae: da Cusano a Leopardi, a.c. di E. Canone, Firenze 1993, pp. 1-11; Ead., Le cardinal de Cuse en voyage avec ses livres, in Les humanistes et leur bibliothèque, par R. De Smet, Leuven 2002, pp. 25-36. Information regarding the library of the St. Nikolaus Hospital in Kues and contacts are available at St. Nikolaus Hospital di Kues.
Online resources:
Luciana De Bernart (Scuola Normale Superiore, Pisa)
last modify: 2015-03-03 15:30:16