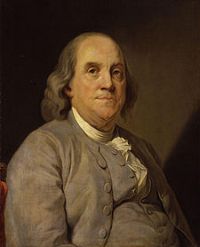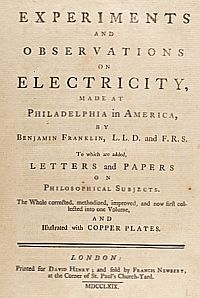 Karteikarte in Italienisch und Englisch
Benjamin Franklin
Boston 1706 - Philadelphia 1790
Opere principali: Autobiography (1986), Poor Richard's Almanack (1733-1758), Experiments and Observations on Electricity (1751).
Bibliografia: P. Leicester Ford, Franklin Bibliography: A List of Books Written by, or relating to Benjamin Franklin (Brooklyn, 1889); M.H. Buxbaum, Benjamin Franklin, 1721-1906: A Reference Guide (Boston, 1983).
Studi sulla biblioteca: P. Leicester Ford, The Many-sided Franklin. His Schooling and Self-Culture- His Services to Education- His Library, «The Century», LVII (1889), pp. 395-414; E. Wolf, The Reconstruction of Benjamin Franklin's Library: An Unorthodox Jigsaw Puzzle, «Papers of the Bibliographical Society of America», LVI, pp: 1-16; Idem, "Franklin's Library" in Reappraising Benjamin Franklin: A Bicentennial Perspective, ed. J.A. Leo Lemay (Newark, University of Delaware Press 1993), pp. 319-331; Poor Richard's Books: An Exhibition of Books Owned by Benjamin Franklin Now on the Shelves of the Library Company of Philadelphia, ed. J. Green (Philadelphia, Library Company of Philadelphia 1990); J. Green, "Thinking about Benjamin Franklin's Library" in Finding Colonia America: Essays Honoring J.A. Leo Lemay, ed. C. Mulford and D. Shields (Newark, University of Delaware Press 2001), pp. 343-356.
E. Wolf II and K.J. Hayes, The Library of Benjamin Franklin (Philadelphia, American Philosophical Society 2006).
Sebbene Franklin avesse riunito un'ampia raccolta libraria, in particolare durante i suoi soggiorni a Londra e a Parigi, non lasciò mai una lista completa della sua biblioteca personale, che fu dispersa alla morte, spartita tra i molti eredi, alcuni dei quali vendettero la loro parte. La Library Company of Philadelphia, istituzione fondata da Franklin nel 1731, cercò in seguito di riunire la collezione; nel corso di molti decenni, un gruppo di studiosi della Library Company e della Biblioteca dell'Università di Yale ha completato la ricerca sulla base delle liste di libri ricavabili dagli appunti di Franklin, dai riferimenti contenuti nelle sue lettere, e della ricognizione del sistema di catalogazione delle segnature realizzata dallo stesso Franklin, che ha permesso una precisa, per quanto provvisoria, ricostruzione della biblioteca. I libri sono elencati in ordine alfabetico, secondo il cognome del loro autore, forniti di descrizione bibliografica completa e con il riferimento ai documenti nei quali vengono citati.
Letzte Bearbeitung: 2017-10-07 20:37:41