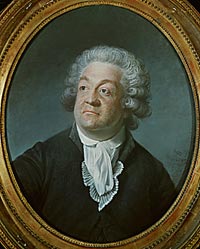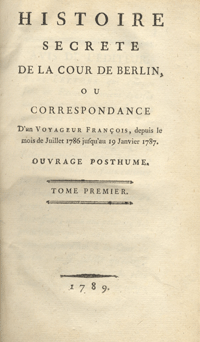 Honoré Gabriel Riqueti comte de Mirabeau
Bignon (Loiret) 1749 - Paris 1791
The greatest orator of the French Revolution. As child he was so unruly that his father treated him with great severity, and ended by putting him through a course of military training. He entered the army, served in Corsica, and rose to the rank of captain of dragons. He married in 1772, and soon spent the better part of his wife's fortune, Various intrigues, especially his elopement with Sophie de Ruffey, the young wife of Marquis de Monnier, led to his imprisonment at different times: he obtained final release in Dec., 1780. Up to that time he had written essays and pamphlets, translated English and German books, and kept up a correspondence with Sophie de Ruffey, to whom he had dedicated his Erotica biblion and other works. After traveling in Switzerland, he went to London (1784-85), and then to Berlin (1789). From here he wrote home a series of official reports. Histoire secrete de la cour de Berlin (1789), and also gathered materials for his Monarchie prussienne (1788) Mirabeau was elected a delegate of the third estate from Aix to the convention of the States-General in Paris (1789), and his ability as an orator ad once made him a political power. In 1790 he became president of the Jacobin Club, also (1791) of the National Assembly. His course of life undermined his robust constitution, and he died in his forty-third year.
The Century Cyclopedia of Names (1903).
Main works: Essai sur le despotisme (1776); Des lettres de cachet et des prisons d'État (1780); Lettres à M. Lecoulteux de la Noraye sur la Banque de Saint-Charles et la Caisse d'escompte (1785); Sur les actions de la Compagnie des eaux (1785); Le Rideau levé ou l'éducation de Laure (1786); Considérations sur l'ordre de Cincinnatus, ou Imitation d'un pamphlet anglo-américain, suivies... d'une Lettre... du général Washington... et d'une Lettre de feu M. Turgot, ... au Dr Price sur les législations américaines (1784); Sur Moses Mendelssohn, sur la réforme politique des juifs et en particulier sur la Révolution tentée en leur faveur en 1753 dans la Grande-Bretagne (1787); De la monarchie prussienne sous Frédéric le Grand (1788); Arlequin réformateur dans la cuisine des moines, ou Plan pour réprimer la gloutonnerie monacale (1789); Erotika Biblion (édition critique par J.-P. Dubost, Paris, Honoré Champion 2009).
Bibliography: F.-A. Aulard, Les Grands orateurs de la Révolution: Mirabeau, Vergniaud, Danton, Robespierre, Paris, F. Rieder 1914; R. de la Croix, Mirabeau ou l'échec d'un destin, Paris, Éd. Fayard 1960; A. Soboul (avant propos d'), Les Mirabeau et leur temps, Société des études roberpierristes, Centre aixois d'études et de recherches sur le XVIIIe siècle, 1968; C. Manceron et A. Manceron, Mirabeau, l'homme à la vie brûlée, Paris, Dargaud 1969; P. Serna, Sade et Mirabeau devant la Révolution française, «Politix», n. 6, 1989, pp. 75-76; Fr. Quastana, La pensée politique de Mirabeau (1771-1789). Républicanisme classique et régénération de la monarchie, Aix-en-Provence, PUAM 2007; Ch. Zorgbibe, Mirabeau, Paris, Éditions de Fallois 2008; J.-P. Desprat, Mirabeau, Paris, Perrin 2008.
last modify: 2012-04-16 18:45:09