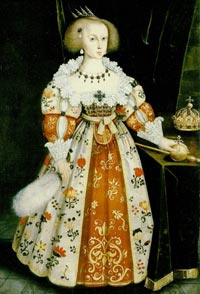 Cristina di Svezia (Kristina Vasa)
Stockholm 1626 - Roma 1689
Queen of Sweden, daughter of Gustavus II Adolphus, whom she succeeded in 1632 under regency composed of the five chief officers of the crown. She assumed the government in 1644, terminated by the treaty of Brömsebro in 1645 the war which dad been waged against Denmark since 1643, and contrary to the advice of Oxenstierna hastened the conclusion of peace in Germany. Having in 1649 secured the election of her cousin Charles Gustavus as her successor, she abdicated the throne in 1654, and shortly after embraced the Roman Catholic faith. She eventually settled in Rome, where she patronized men of letters and science, and collected a library which was purchased after her death by Pope Alexander VIII.
The Century Cyclopedia of Names (1903).
Bibliography: S. Åkerman, Queen Christina of Sweden and her circle: the transformation of a seventeenth-century philosophical libertine, New York, E.J. Brill 1991; S. Stolpe, Drottning Kristina, Stockholm, Aldus/Bonnier 1996; M. Conforti, A. Moscati, M. Santucci (a cura di), Cristina di Svezia. La vita scritta da lei stessa, Napoli, Cronopio 1998; D. Pizzagalli, La regina di Roma, Milano, Rizzoli 2002; A.M. Trivellini, Cristina di Svezia, Lucca, Maria Pacini Fazzi Editore 2004; V. Buckley, Christina; Queen of Sweden, London, Harper Perennial 2005; V. Buckley, Cristina regina di Svezia. La vita tempestosa di un'europea eccentrica, Milano, Mondadori 2008; M. Torrione, Alejandro, genio ardiente. El manuscrito de Cristina de Suecia sobre la vida y hechos de Alejandro Magno, Madrid, Editorial Antonio Machado 2011.
last modify: 2012-03-29 16:42:21