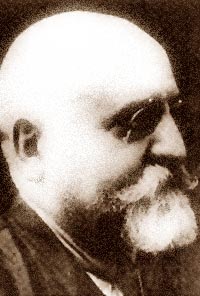 Francesco De Sarlo
San Chirico Raparo (Potenza) 1864 - Firenze 1937
Italian philosopher and psychologist with a positivistic and experimentalist education, from 1900 to 1933 he was professor of theoretical philosophy at the Royal Institute of higher studies in Florence. In 1903 De Sarlo inaugurated the Laboratory of Experimental Psychology, the first in Italy, and in 1907 he founded the review La cultura filosofica. Influenced by Wundt and Brentano, he was a firm opponent of Neo-idealism.
Main works: I dati dell'esperienza psichica (Firenze 1903); Il pensiero moderno (Milano 1915); Psicologia e filosofia (Firenze 1918).
Bibliography: P. Guarnieri, De Sarlo, Francesco, in Dizionario Biografico degli Italiani, vol. 39 (1991); Francesco De Sarlo e il laboratorio fiorentino di psicologia, a cura di L. Albertazzi, G. Cimino, S. Gori-Savellini, Bari, G. Laterza 1999.
R.R. - A.S.
last modify: 2013-05-15 22:34:26