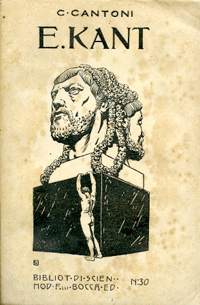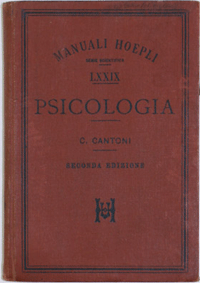 Carlo Cantoni
Gropello Lomellino 1840 - 1906
Professor of anthropology and theoretical philosophy at the Accademia scientifico-letteraria of Milan, in 1878 he became professor at the University of Pavia. After studying under the guidance of spiritual thinkers such as Giovanni M. Bertini, Terenzio Mamiani e Luigi Ferri, he studied in Germany with Hermann Lotze. In 1899 he became director of the «Rivista filosofica». His most important work, aside from an essay on Vico, a successful handbook of philosophy for high schools and other works of pedagogy and political philosophy, is the monograph Emanuele Kant (3 voll., 1879-1884), an important critical text in late nineteenth century Italy.
Main works: G.B. Vico. Studii critici e comparativi (Torino 1867); Corso elementare di filosofia (2 vol., Milano 1870-1871); Emanuele Kant (3 vol., Milano 1879-1884); Storia compendiata della filosofia (Milano 1887); Sull'università. Saggi e discorsi dal 1874 al 1905 (Milano 1991).
Bibliography: C. Mutini, CANTONI, Carlo, in Dizionario Biografico degli Italiani, vol. 18 (1975); M. Ferrari, I dati dell'esperienza. Il neokantismo di Felice Tocco nella filosofia italiana tra Ottocento e Novecento, Firenze, Olschki 1990; C. Genna, L'Archivio Carlo Cantoni. Inventario Analitico, Bologna, Istituto Italiano per gli Studi Storici-Il Mulino 2002; Ead., Carlo Cantoni tra spiritualismo e criticismo, Milano, F. Angeli 2005.
Anna Claudia Mosconi
(Dipartimento di Studi Umanistici − Università degli Studi di Pavia)
last modify: 2014-02-28 19:07:02