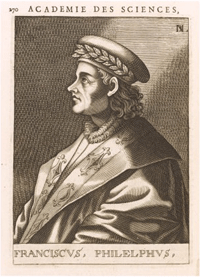 Francesco Filelfo
Tolentino 1398 - Firenze 1481
An Italian humanist. At the age of eighteen he was appointed professor of eloquence at Padua. He went to Constantinople to perfects himself in the Greek language in 1420, with a diplomatic mission from de Venetians, and was afterward employed on others to Amurath II and the emperor Sigismund.
The Century Cyclopedia of Names (1903).
Bibliography: Rosmini, Vita di Francesco Filelfo da Tolentino, Milan 1808; Francesco Filelfo, in Dizionario biografico degli Italiani, Roma 1960; AA. VV., Francesco Filelfo nel quinto centenario della morte, Atti del XVII convegno di Studi maceratesi, Tolentino, 27 - 30 settembre 1981, Padova 1986; M. Robin, Filelfo in Milan. Writings 1451-1477, Princeton 1991; I.G. Rao, Francesco Filelfo. Della disciplina morale, in All'ombra del lauro, a cura di A. Lenzuni, Milano 1992; P. Viti, Filelfo, Francesco, in Dizionario Biografico degli Italiani, vol. 47 (1997); Th. Ganchou, Les ultimae voluntates de Manuel et Iôannès Chrysolôras et le séjour de Francesco Filelfo à Constantinople, «Bizantinistica», VII (2005), pp. 195-285; M. Meserve, Nestor Denied: Francesco Filelfo's Advice to Princes on the Crusade against the Turks, «Osiris», 25, 1 (2010), pp. 47-65.
last modify: 2013-05-16 14:08:21