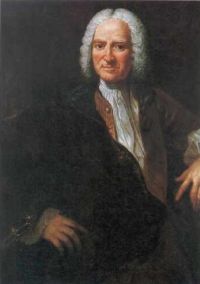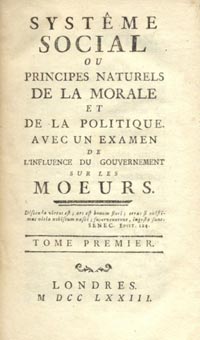 Paul-Henri Thiry d'Holbach
Edesheim 1723 - Paris 1789
French philosopher of German origin. Materialist, atheist, contributor to the Encyclopédie, he was a leading figure in radical European Enlightenment. Friend of Diderot, he came in contact and had relationships with most of the intellectuals of his period, making his rich library available to a wide circle of authors. His work was intense, as a translator from German and popularizer of texts, especially of mineralogy and chemistry.
Main works: Le Christianisme dévoilé ou Examen des Principes et des Effets de la Religion chrétienne (1761); Système de la Nature ou Des Lois du Monde physique et du Monde moral (1770); Système social ou Principes naturels de la Morale & de la Politique, avec un Examen de l'Influence du Gouvernement sur les Mœurs (1773); La Morale universelle, ou Les Devoirs de l'Homme fondés sur sa Nature (1776).
Bibliography: J. Vercruysse, Bibliographie descriptive des écrits du Baron d'Holbach, Paris, Minard 1971; P. Naville, D'Holbach et la philosophie scientifique au XVIIIème siècle, Paris, Gallimard 1967; A. Minerbi-Belgrado, Paura e ignoranza: studio sulla teoria della religione in D'Holbach, Firenze. Olschki 1983; G. Cristani, D'Holbach e le rivoluzioni del globo. Scienze della terra e filosofie della natura nell'età dell'Encyclopédie, Firenze, Olschki 2003; A. Sandrier, Le style philosophique du baron d'Holbach, Paris, Honoré Champion 2004.
last modify: 2010-10-21 11:45:55