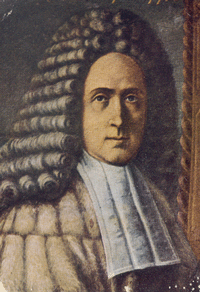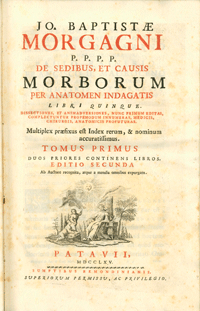 Giovanni Battista Morgagni
Forlì 1682 - Padova 1771
An Italian anatomist, the founder of pathological anatomy. He was professor of anatomy in Padua from 1711.
Main works: Adversaria anatomica prima (Bologna 1706); Nova institutionum medicarum idea (Padova 1711, 1982); Adversaria anatomica altera et tertia (Padova 1717); Adversaria anatomica quarta, quinta et sexta (Padova 1719); Epistolae anatomicae duae novas observationes et animadversiones complectentes (Padova 1728); Epistolae anatomicae duodeviginti ad scripta pertinentes celeberrimi viri Antonii Mariae Valsalvae (Venezia 1740); De sedibus et causis morborum per anatomen indagatis (Venezia 1761); Opuscula miscellanea (Venezia 1763); Opera omnia in quinque tomos divisa (Venezia 1764); Epistolae Aemilianae (Forlì 1931); Consulti medici (a cura di E. Benassi, Bologna 1935).
Bibliography: W.F. Bynum, H. Bynum, Dictionary of medical biography, Greenwood Press, Westport (Connecticut)-London 2007, vol. IV; D. Giordano, Morgagni, UTET, Torino 1941; W.H. Hewitt, Archives of the forensic sciences: medicolegal contributions of historical interest. Miscellaneous minor works of Giovanni Battista Morgagni, «Forensic science», I (3), 1972, pp. 339-387; M. Messini, R. Messini, Therapeutic prescriptions of Giovanni Battista Morgagni, «La Clinica terapeutica», 63 (4), 1972, pp. 359-387; G. Ongaro, Giovanni Battista Morgagni, in Professori e scienziati a Padova nel Settecento, Antilia, Treviso 2002, pp. 20-30; Id., Morgagni, Giovanni Battista (Giambattista), in Dizionario Biografico degli Italiani, vol. 76 (2012); R. Porter (a cura di), Dizionario Biografico della Storia della Medicina e delle Scienze Naturali, F.M. Ricci, Milano 1987, t. III; L. Premuda, Introduzione, in Nova Institutionum Medicarum Idea, la Garangola, Padova 1982, pp. 5-23; C.G. Tedeschi, Giovanni Battista Morgagni, the founder of pathologic anatomy. A biographic sketch, on the occasion of the 200th anniversary of the publication of his De sedibus et causis morborum per anatomen indagatis, «BMQ, the Boston medical quarterly», 12, 1961, pp. 112-125.
last modify: 2017-10-05 23:33:56