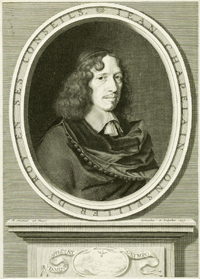 Jean Chapelain
Paris 1595 - 1674
A French poet and littérateur, one of the first members of the French Academy, and influential in determining the character of its labors: author of La Pucelle (1656).
The Century Cyclopedia of Names (1903).
Main works: Lettre ou discours de M. Chapelain à M. Favereau, portant son opinion sur le poème d'Adonis du cavalier Marino (1623); Les Sentimens de l'Académie française sur la tragi-comédie du Cid (1638); Ode pour la naissance de Mgr le comte de Dunois (1646); Ode pour Mgr le duc d'Anguien (1646); La Pucelle, ou la France délivrée, poème héroique (1656); De la lecture des vieux romans (éd. A. Feillet, Paris 1870); Opuscules critiques (éd. A.C. Hunter, Paris 1936); Soixante-dix-sept lettres inédites à Nicolas Heinsius: 1649-1658, publiées d'après le manuscrit de Leyde avec une introduction et des notes par B. Bray, La Haye, M. Nijhoff 1966; Les Lettres authentiques à Nicolas Heinsius, 1649-1672: une amitié érudite entre France et Hollande, édition établie, introduite et annotée par B. Bray, Paris, Champion 2005.
Bibliography: F. Picco, Appunti intorno alla coltura italiana in Francia nel secolo XVII. Jean Chapelain (1595-1674), in Miscellanea di studi critici in onore di Guido Mazzoni, a cura di A. Della Torre e P.L. Rambaldi, 2 vol., Firenze 1907, vol. II, pp. 111-178; G. Nicoletti, L'italianismo di Chapelain, in «Studi francesi», IV (1960), pp. 241-251, 424-433; G. Collas, Jean Chapelain, 1595-1674. Un poète protecteur des lettres au XVIIe siècle, étude historique et littéraire d'après des documents inédits, Paris 1970 (19121); C. Jouhaud, Sur le statut d'homme de lettres au XVIIe siècle. La correspondance de Jean Chapelain (1595-1674), in «Annales (Histoire, Sciences Sociales)», XLIX, 1994, 2, pp. 311-347; A. Duprat, Vraisemblances: poétiques et théorie de la fiction, du Cinquecento à Jean Chapelain, 1500-1670, Paris 2009.
last modify: 2012-04-15 22:53:22