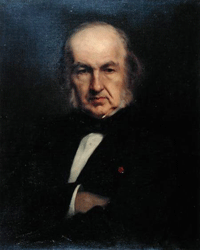 Karteikarte in Italienisch und Englisch
Claude Bernard
Villefranche-sur-Saône 1813 - Paris 1878
Fisiologo, fu uno dei maggiori assertori del ricorso al metodo sperimentale in medicina. Nel 1854 fu chiamato dalla facoltà di scienze di Parigi alla cattedra di fisiologia generale, per lui istituita; l'anno seguente successe a Magendie al Collège de France; nel 1868 ebbe l'insegnamento della fisiologia generale al Musée d'histoire naturelle.
Opere principali: Introduction à l'étude de la médicine expérimentale (1865); La science expérimentale (1878); Leçons sur les phénomènes de la vie communs aux animaux et aux végétaux (1878).
Bibliografia: P. Lamy, L'Introduction à l'étude de la médecine expérimentale, le naturalisme et le positivisme, Paris, F. Alcan 1928; R. Clarke, Claude Bernard et la médecine expérimentale, Paris, Seghers 1961; Fr.L. Holmes, Claude Bernard and Animal Chemistry: The Emergence of a Scientist, Cambridge, Harvard University Press 1974; A. Prochiantz, Claude Bernard: la révolution physiologique, Paris, PUF 1990; P. Debray-Ritzen, Claude Bernard ou un nouvel état de l'humaine raison, Paris, Albin Michel 1992; M. Grmek, Le Legs de Claude Bernard, Paris, Fayard 1997; G. Canguilhem, Claude Bernard, in Études d'histoire et de philosophie des sciences, Paris, Vrin 19907.
Letzte Bearbeitung: 2017-10-08 11:21:02