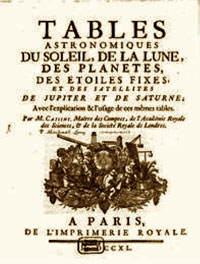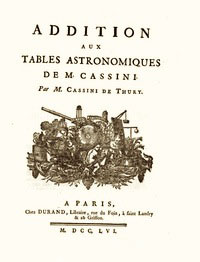 Jacques Cassini
Paris 1677 - Thury 1756
Son of Giovanni Domenico Cassini (1625-1712), admitted at the age of seventeen to membership of the French Academy of Sciences, he was elected in 1696 a fellow of the Royal Society of London, and became maitre des comptes in 1706. Having succeeded to his father's position at the observatory in 1712, he measured in 1713 the arc of the meridian from Dunkirk to Perpignan, and published the results in a volume entitled De la grandeur et de la figure de la terre (1720). He wrote besides Elemens d'astronomie (1740). The first tables of the satellites of Saturn were supplied by him in 1716.
Encyclopedia Britannica, Cambridge University Press, 191111.
Main works: De la grandeur et de la figure de la terre (1720); Méthode de determiner si la terre est sphérique ou non (1738); Éléments d'astronomie (1740); Tables astronomiques du Soleil, de la Lune, des Planètes, Des Étoiles Fixes Et Des Satellites De Jupiter Et De Saturne (1740); Traité de la Comète qui a paru en décembre 1743 & en janvier, février & mars 1744 avec Jean Philippe de Chéseaux; Addition aux Tables astronomiques (1756).
Bibliography: C. Wolf, Histoire de l'observatoire de Paris; Max. Marie, Histoire des sciences, VII, 214; R. Wolf, Geschichte der Astronomic, p. 451; J. C. Houzeau, Bibl. astronomique; J. Delambre, Histoire de l'astronomie au XVIIIe siecle, pp. 250-275; J. F. Montucla, Histoire des mathematiques, IV, 145, 248.
last modify: 2013-11-23 13:12:51