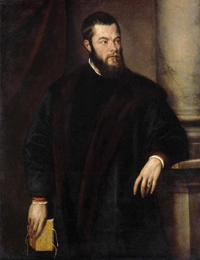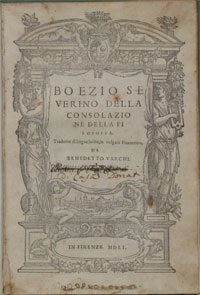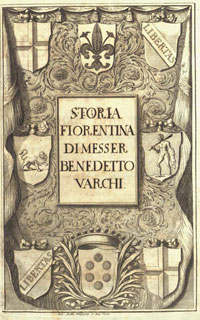 Benedetto Varchi
Firenze 1503 - 1565
Florentine historian. He fought in the defence of Florence during the siege by the Mediceans and imperialists in 1530, and was exiled after the surrender of the city. In 1536 he took part in Piero Strozzi's unsuccessful expedition against Medicean rule, but seven years later he was called back to Florence by Cosimo I., who gave him a pension and commissioned him to write a history of the city; the work covers the period from 1527 to 1538. Varchi also wrote a number of plays, poems, dialogues and translations from the classics. His history, in sixteen books, was first published in Florence in 1721.
(1911 Encyclopedia Britannica)
Main works: Carmina quinque hetruscorum poetarum (Firenze 1562); La suocera (post. 1569); Ercolano (post. 1570); Storia fiorentina (post. 1721); Opere di Benedetto Varchi ora per la prima volta raccolte (Trieste 1859); Lettere, 1535-1565 (Roma 2008).
Bibliography: U. Pirotti, Benedetto Varchi e la cultura del suo tempo, Firenze, Olschki 1971; M. Firpo, Gli affreschi di Pontormo a San Lorenzo. Eresia, politica e cultura nella Firenze di Cosimo I, Torino, Einaudi 1997; V. Bramanti, Benedetto Varchi tra Caro e Castelvetro, in Miscellanea di studi in onore di Giovanni da Pozzo, a cura di D. Rasi, Roma-Padova, Antenore 2004, pp. 243-254; Benedetto Varchi 1503-1565. Atti del convegno (Firenze, 16-17 dicembre 2003), a cura di V. Bramanti, Roma, Edizioni di Storia e Letteratura 2007; S. Lo Re, Politica e cultura nella Firenze cosimiana. Studi su Benedetto Varchi, Manziana, Vecchiarelli 2008; Benedetto Varchi e il suo tempo. Atti del convegno (Montevarchi, 11-12 aprile 2003), a cura di L. Perini, Firenze, CD&V 2009; S. Lo Re, Tra cultura di regime e controcultura d'esilio : il caso Varchi, Paris, Champion 2010; A. Siekiera, Varchi, Benedetto, in Enciclopedia dell'Italiano (2011).