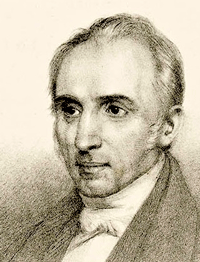 Maurizio Bufalini
Cesena 1787 - Firenze 1875
Born in Cesena in 1787, he studied at the University of Bologna. He began teaching there in 1813, as assistant to the chair of clinical medicine. In his essay Fondamenti della patologia analitica (Pavia, 1819), he advocated a close relationship between medicine and practical knowledge. In 1832, he went back to Cesena, and in 1835 he was called to Florence, to teach at the School of the hospital of Santa Maria Nuova. He died in Florence in 1875. According to Murri, Bufalini was the first to emphasize the use of direct observation, scalpels, and microscopes.
Main works: Fondamenti della patologia analitica (Pavia 1819); Cicalate contro la nuova dottrina italiana (1832); Intorno alle cagioni del perfezionamento civile dei popoli (Firenze 1837); Della benevolenza,dell'emulazione e della religione considerate come principii della morale educazione dei fanciulli (Firenze 1840); Dell'influenza della ragione sul progresso del bene sociale (Firenze 1841); Sulla influenza educatrice della popolare istruzione (Firenze 1850); Istituzioni di patologia analitica (Firenze 1863).
Bibliography: F. Mariotti, Ricordi sulla vita e le opere di Maurizio Bufalini, Firenze 1876; A. Murri, Maurizio Bufalini nel centenario della sua morte, Bologna, Zanichelli 1925; L. Messedaglia, In difesa della memoria di Maurizio Bufalini, «Studi romagnoli», 5 (1954), pp. 413-426; V. Bregoli, Scienziati illustri di Romagna, Imola, Galeati 1972, pp. 71-78; F. Manzotti, Bufalini, Maurizio, in Dizionario biografico degli italiani, vol. 14 (1972); E. Dall'Osso, Il pensiero clinico di Maurizio Bufalini, «Studi romagnoli», 27 (1976), pp. 375-377; Atti del Convegno Maurizio Bufalini, medicina, scienza e filosofia, Cesena 13-14 novembre 1987, a cura di G. Pancaldi, Bologna, Clueb 1990; L. Baldacchini, Maurizio Bufalini, Antonio Fortunato Stella e la Società Tipografica dei classici, «Studi romagnoli», 45 (1994), pp. 437-445; M. Biondi, La tradizione della città. Cultura e storia a Cesena e in Romagna nell'Otto e Novecento, Cesena, Società di studi romagnoli 1995; G. Lelli Mami, Un singolare progetto: il monumento a Maurizio Bufalini vivente, «Studi romagnoli», 47 (1996), pp. 713-722; G. Cerasoli, La biblioteca di Maurizio Bufalini, «Studi romagnoli», 51 (2000), pp. 464-465; R. Pasi, Maurizio Bufalini e Luigi Carlo Farini. I due grandi protagonisti romagnoli del Risorgimento e della medicina dell'800, Ravenna, Edizioni del Girasole 2002.
last modify: 2017-10-03 14:01:01