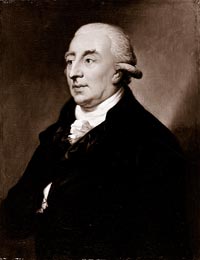 Johann Christoph Adelung
Spantenkow 1732 - Dresden 1806
Philologist, German historian and scholar, professor in Leipzig from 1763, then librarian in Dresden from 1787, author of monographs and encyclopaedic repertories on a wide range of topics (politics, literature, history, diplomacy, philosophy, mathematics, natural sciences and in particular mineralogy).
Main works: Versuch eines vollständigen grammatisch-kritischen Wörterbuches der hochdeutschen Mundart (Leipzig 1774-86); Mithridates oder allgemeine Sprachenkunde (Berlin 1806).
Bibliography: J. Lüdtke, Die romanische Sprachen im Mithridates von Adelung und Vater, Tübingen, TBL-Verlag Narr 1978; M. Strohbach, Johann Christian Adelung: ein Beitrag zu seinem germanistischen Schaffen mit einer Bibliographie seines Gesamtwerkes, Berlin-New York, de Gruyter 1984.
last modify: 2011-11-22 20:16:14