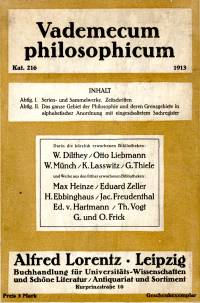 Jacob Freudenthal
Bodenfelde 1839 - Screiberhau 1907
Jacob Freudenthal, philosopher and historian of philosophy, full professor in Wrocław (1888); interpreter and biographer of Spinoza; he studied in particular Spinoza's sources in scholasticism.
Main works: Über den Begriff der Φαντασία bei Aristoteles (1863); Die Flavius Josephus Beigelegte Schrift über die Herrschaft der Vernunft (1869); Hellenistische Studien (1875-1879); Über die Theologie des Xenophanes (1886); Die Lebensgeschichte Spinozas (1899); Über den Text der Lucasschen Biographie Spinozas («Zeitschrift für Philosophie und philosophische Kritik», CXXVI, 1905, pp. 189-208); Spinoza. Leben und Lehre (19272).
Bibliography: C. Gebhardt, Jacob Freudenthal, The Hague [s.n.t] 1922; C Schapkow, L'œuvre et la vie de Spinoza comme paradigme scientifique et fondement d'une identité juive secularisée chez Heinrich Graetz et Jacob Freudenthal, «Revue germanique internationale», XVII, 2002, pp. 193-202.
last modify: 2017-10-17 09:35:32