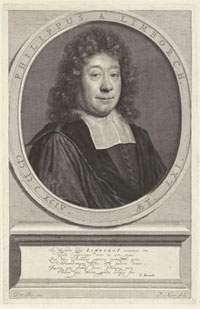 Philippus van Limborch
Amsterdam 1633 - 1712
Pastor and Dutch Remonstrant theologian, van Limborch was, together with Jean Le Clerc, the most important representative of late-17th-century Dutch Arminianism. After completing his studies in Leiden, he was named pastor (1657) first in Gouda, then in Amsterdam (1667), and in 1668 he was named professor of theology at the Remonstrant seminary. Among his better-known works there is the Historia Inquisitionis (1692), dedicated to the latitudinarian archbishop John Tillotson, a collection of the sentences and analysis of the methods and inquisitorial procedures of the Toulouse Court of Inquisition from 1307 to 1323 (the book was placed on the Index of Forbidden Books in 1694). Limborch considered the Bible as the source of norms for religious life and morals, and professed that reason and revelation are in agreement. He conferred the highest importance on the moral aspects of Christian teachings, and insisted on the importance of tolerance, compassion and peace, as can be seen in his work Theologia christiana ad praxin pietatis ac promotionem pacis christianae unice directa (1686), an exposition of the thought of Simone Episcopio (Simon Bischop), first professor of the Remonstrant seminary of Amsterdam (and great uncle of Limborch), and of Étienne de Courcelles, Episcopio's successor. An adversary of Spinozism, van Limborch accepted some aspects of Cartesian thought (introduced into Arminian circles by De Corcelles), but his principle reference point was John Locke, who would dedicate to Limborch his Epistola de tolerantia (1689). Limborch also published Epistolae ecclesiasticae praestantium ac eruditorum virorum (1684), a collection of letters from Arminius, Gerhard Vossius and Ugo Grozio.
Main works: Theologia christiana ad praxin pietatis ac promotionem pacis christianae unice directa (1686); De veritate religionis Christianae amica collatio cum erudito Judaeo (1687); Historia Inquisitionis, cui subjungitur Liber sententiarum inquisitionis Tholosanae (1692); Commentarius in Acta Apostolorum et in Epistolas ad Romanos et ad Hebraeos (1711).
Bibliography: P.J. Barnouw, Philippus van Limborch, Den Haag, Mouton 1963; L. Simonutti, Arminianesimo e tolleranza nel Seicento olandese. Il carteggio Ph. van Limborch-J. Le Clerc, Firenze, Olschki 1984; J.M. Hicks, The Theology of Grace in the Thought of Jacobus Arminius and Philip van Limborch: A Study in the Development of seventeenth-century Dutch Arminianism, dissertation, Philadelphia 1985; L. Simonutti, Philipp van Limborch's «History of the Inquisition» (1692), in Histories of Heresy in Early Modern Europe. For, against and beyond Persecution and Toleration, ed. by J.C. Laursen, New York, Palgrave Macmillan 2002, pp. 101-117; L. Simonutti, Platonismo e ateismi. 'Spiritus naturae' e antispinozismo: More e Limborch, in Forme del Neoplatonismo: dall'eredità ficiniana ai platonici di Cambridge. Atti del convegno (Firenze, 25-27 ottobre 2001), Firenze, Olschki 2007, pp. 297-231.
O.C.
last modify: 2017-10-10 11:58:52