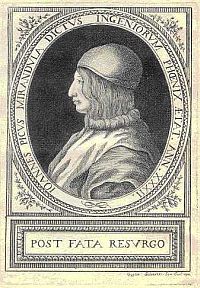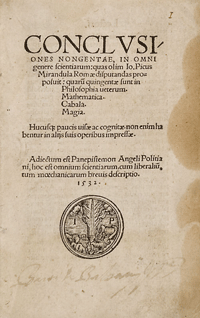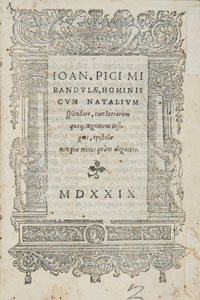 Giovanni Pico della Mirandola
Mirandola 1463 - Firenze 1494
Bibliography: Pichiana: bibliografia delle edizioni e degli studi, a cura di L. Quaquarelli e Z. Zanardi, Firenze, Olschki 2005; N. Tirinnanzi, Pico della Mirandola, in Il Contributo italiano alla storia del Pensiero - Filosofia (2012); Br. Andreolli, PICO, in Dizionario Biografico degli Italiani, vol. 83 (2015).
Studies on the library: G. Busi, "Chi non ammirerà il nostro camaleonte?". La biblioteca cabbalistica di Pico della Mirandola, in Id., L'enigma dell'Ebraico nel Rinascimento,Torino, Nino Aragno 2007, pp. 25-45.
Following the arrest in 1489 of Flavio Mitridate, the converted Jew to whom Pico had entrusted the translation of cabbalistic texts, several volumes were confiscated that were meant for the count: it seems that they remained in Rome, without entering Pico's library, and they are now conserved at the Biblioteca apostolica Vaticana (mss. ebr. 189; 190; 191; Chig. A VI 190).
E.D.S.
last modify: 2017-10-09 10:22:02