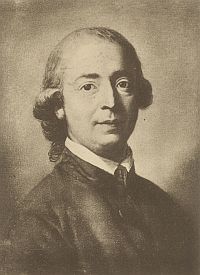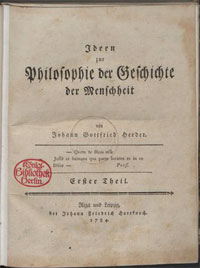 Johann Gottfried Herder
Mohrungen 1744 - Weimar 1803
German philosopher, theologian and man of letters. From 1762 he studied theology at the University of Königsberg, where he became a pupil of Immanuel Kant and became acquainted with Hamann; from 1765 to 1769 he was preacher in Riga and in 1771 he took a position as head pastor and court preacher at Bückeburg. In 1776 Goethe secured him a position as General Superintendent at the "Stadtkirche".
Main works: Abhandlung über den Ursprung der Sprache (Berlin, Voß 1772); Auch eine Philosophie der Geschichte zur Bildung der Menschheit (Riga, Hartknoch 1774); Ideen zur Philosophie der Geschichte der Menschheit (Riga, Hartknoch 1784-1791); Gott. Einige Gespräche (Gotha, Ettinger 1787); Briefe zur Beförderung der Humanität; zehn Sammlungen (Riga, Hartknoch 1793-1797); Eine Metakritik zur Kritik der reinen Vernunft (Leipzig, Hartknoch 1799).
Bibliography: G. Günther, Herder-Bibliographie, Berlin, Aufbau Verlag 1978; D. Kuhles, Herder-Bibliographie 1977–1992, Stuttgart, Metzler 1994.
Updatings were published in the «Herder-Jahrbuch» of 1996 (years 1993-1994), 1998 (years 1995-1996), 2000 (years 1997-1999), 2002 (years 2002-2002), 2004 (years 2002-2003).
Online resources:
last modify: 2021-03-02 18:05:45