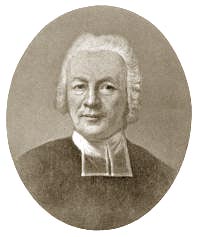 Johann August Ernesti
Tennstedt 1707 - Leipzig 1781
German theologian and philologist. He studied in Wittenberg and Leipzig; in the latter he afterwards held the chairs of classic philology, rhetoric and theology. He worked together with Gesner and Baumgarten. Author of several editions of Greek and Latin Classics (Xenophon, Cicero, Suetonius, Tacitus, Aristophanes, Homer, Callimachus, Horace), he continued Johann Albert Fabricius's project of the Bibliotheca Latina.
Main works: Antimuratorius sive confutatio disputationis Muratorianae de rebus liturgicis (Lipsiae 1755-1758); Neue theologische Bibliothek, I-X (Lipsiae 1760-1769); Institutio Interpretis Novi Testamenti (Lipsiae 1761); Opuscula oratoria (Lipsiae 1762); Opuscula philologica et critica (Lipsiae 1764); Opuscula theologica (Lipsiae 1773).
Bibliography: J.E. Sandys, History of Classical Scholarship, 3 vol., Cambridge, Cambridge University Press 1900-1908.
last modify: 2010-10-19 15:37:57