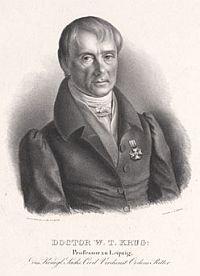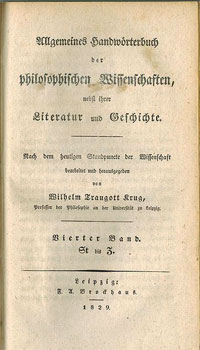 Wilhelm Traugott Krug
Radis bei Wittenberg 1770 - Leipzig 1842
German philosopher, professor of philosophy and theology at the University of Frankfurt on the Oder (1801), professor of philosophy at the University of Königsberg, the same chair held by Kant (1805) and afterwards at the University of Leipzig.
Main works: Fundamentalphilosophie (Züllichau 1803); System der theoretischen Philosophie, 3 vol. (Königsberg 1806-1810); System der praktischen Philosophie, 3 vol. (Königsberg 1817-1819); Handbuch der Philosophie und der philosophischen Literatur, 2 vol. (Leipzig 1820-1821); Allgemeines Handwörterbuch der philosophischen Wissenschaften, nebst ihrer Literatur und Geschichte, 4 vol. (Leipzig 1827-1829).
Bibliography: A. Kemper, Gesunder Menschenverstand und transzendentale Synthetismus: W.T. Krug, Philosoph zwischen Aufklärung und Idealismus, Münster, Lit 1988.
last modify: 2017-10-12 16:06:03