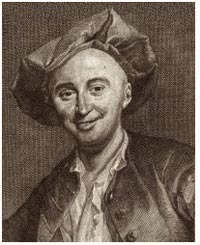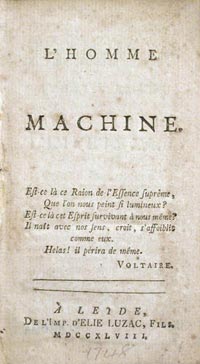 Karteikarte in Italienisch und Englisch
Julien Offroy de La Mettrie
Saint-Malo 1709 - Potsdam 1751
Filosofo francese di impostazione materialista e sensista, ebbe una formazione medica che indirizzò in maniera decisiva le sue scelte filosofiche. Allievo di Boerhaave fu esponente di spicco della tradizione iatromeccanica. Perseguitato per il suo materialismo e ateismo, si rifugiò presso la corte di Federico di Prussia. Influenzato da Glisson e da Haller sostenne l'irritabilità della materia e delineò un'etica descrittiva e anti-speculativa.
Opere principali: Histoire naturelle de l'âme (1745); L'Homme machine (1747); L'Homme plante (1748); Anti-Sénèque (1748); Le Système d'Epicure (1750); Discours préliminaire (1750); L'Art de jouir (1751).
Bibliografia: L. Cohen-Rosenfield, From Beast Machine to Man Machine. Animal Soul in French Letters from Descartes to La Mettrie, New Haven 1941; A. Vartanian, La Mettrie's «L'homme machine», a Study in the origins of an Idea, Princeton, Princeton University Press 1960; H. Kirkinen, Les origines de la conception moderne de l'homme machine, Helsinki, Suomalainen tiedeakatemia 1960; L.G. Crocker, Nature and Culture. Ethical Thought in the French Enlightenment, Baltimore, John Hopkins 1963; A. Thomson, Materialism and society in the Mid-eigtheenth Century: La Mettrie's Discours Préliminaire, Genève, Droz 1981; K.A. Wellman, La Mettrie: Medicine, Philosophy and Enlightenment, Durham, Duke University Press 1992; R.E. Stoddard, Julien Offray de La Mettrie, 1709-1751: a Bibliographical Inventory, Köln, J. Dinter 2000; H. Hecht, Julien Offray de La Mettrie: Ansichten und Einsichten, Berlin, Berliner Wiss.-Verlag 2003.
Letzte Bearbeitung: 2010-10-14 08:34:16