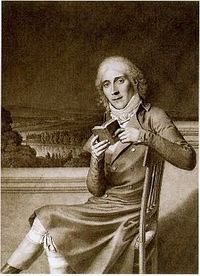 Maine de Biran, Marie François Pierre Gontier de Biran
Bergerac 1766 - Paris 1824
French philosopher. Politically conservative, he held important public offices after the restoration of the Bourbon monarchy in France.
Main works: Influence de l'habitude sur la faculté de penser (1802); Décomposition de la pensée (1805); De l'aperception immédiate (1807); Nouvelles considérations sur les rapports du physique et du moral de l'homme (1811); Essai sur les fondements de la psychologie (1812); Nouveaux essais d'anthropologie, ou de la science de l'homme intérieur (1824); Journal. Édition intégrale publiée par H. Gouhier, Neuchâtel, Éd. de la Baconnière, 1954–55; Œuvres complètes, sous la direction de Fr. Azouvi, Paris, Vrin, 1987-2001.

Bibliography: V. Delbos, Maine de Biran et son œuvre philosophique, Paris, Vrin 1931; H. Gouhier, Les conversions de Maine de Biran, Paris, Vrin 1947; F. Azouvi, Maine de Biran. La science de l'homme, Paris, Vrin 1995; A. Devarieux, Maine de Biran: l'individualité persévérante, Grenoble, Jérome Millon 2004.
last modify: 2017-10-05 10:24:05