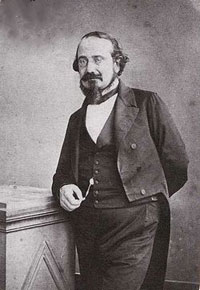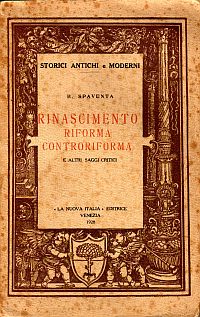 Bertrando Spaventa
Bomba (Chieti) 1817 - Napoli 1883
Exile in Turin after 1848, he first obtained the chair in the philosophy of law at the University of Modena (1858) and then that of the history of philosophy in Bologna (1860) and, the following year, that of philosophy in Naples. He is considered the main exponent of the so-called "Neapolitan Hegelism". Giovanni Gentile referred to him as the precursor of actualism.
Main works: Prolusione e introduzione alle lezioni di filosofia nella Università di Napoli, 23 novembre - 23 decembre 1861 (Napoli 1862); La filosofia di Gioberti (Napoli 1863); Saggi di critica filosofica, politica e religiosa (Napoli 1867); Esperienza e metafisica (Torino 1888); Opere (Firenze 1972).
Bibliography: G. Oldrini, La cultura filosofica napoletana dell'Ottocento, Roma-Bari, Laterza 1973; Gli hegeliani di Napoli e la costruzione dello Stato unitario, Roma, Istituto poligrafico e zecca dello Stato 1989; E. Garin, Bertrando Spaventa, Napoli, Bibliopolis 2007; A. Savorelli, Spaventa, Bertrando, in Il Contributo italiano alla storia del Pensiero - Filosofia (2012).
A.S.
last modify: 2017-10-09 12:02:54