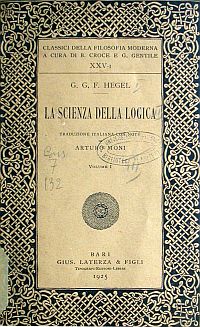 Arturo Moni
Bagni di Lucca 1867 - 1936
Italian philosopher. Attended the Faculty of Law in Pisa, of Mathematics in Bologna, and then studied oriental languages at the Sorbonne without completing an academic degree. Correspondent of Benedetto Croce and Giovanni Gentile, friend of Ernesto Codignola. Moni translated Hegel's Science of Logic into Italian, published by Laterza in 1925; the work lasted more than a decade.
Main works: La condanna del modernismo, «Rivista Abruzzese di Scienze, Lettere ed Arti», 1909; La dialettica positiva ossia il concetto del divenire, «Rivista Abruzzese di Scienze, Lettere ed Arti», 1910; Le prime categorie naturali o i concetti di spazio, tempo e moto secondo la filosofia hegeliana, «Atti della Reale Accademia delle Scienze di Torino», 1915-1916; Questioni logico-metafisiche, «Civiltà Moderna», 1931; Il concetto del sistema filosofico definitivo, «Civiltà Moderna», 1932; L'antica e la nuova dialettica, «Civiltà Moderna», 1935.
Bibliography: C. Cesa, Un'inedita critica della lettura hegeliana di Croce di Arturo Moni, «Giornale critico della filosofia italiana», LXVI, 1987, pp. 611-613; S. Marcucci, Il pensiero storico-filosofico di due «accademici» lucchesi: Michele Rosi e Arturo Moni, Lucca, Maria Pacini Fazzi 2002.
last modify: 2009-12-16 00:07:09