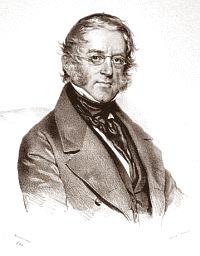 Carl Ritter
Quedlinburg 1779 - Berlin 1859
Along with Alexander von Humboldt he is considered one of the founders of modern geography. He attended the University of Halle, at the expense of Bethmann-Hollweg, a banker of Frankfurt, whose children Ritter had tutored. From 1813 to 1818 he lived in Göttingen, working on the first edition of his monumental Erdkunde. In 1820 he became professor of geography at the University of Berlin. He is one of the founders of the Gesellschaft der Erkunde; from 1822 he was a member of the Prussian Academy of Sciences. The explorer Heinrich Barth was among his students.
Main works: Die Erdkunde im Verhältniß zur Natur und zur Geschichte des Menschen, oder allgemeine vergleichende Geographie, als sichere Grundlage des Studiums und Unterrichts in physicalischen und historischen Wissenschaften, 2 vol., Berlin 1817-1818 (2a ed., 19 vol., 1822-1859).
Bibliography: M. Linke, Ritters Leben und Werk. Ein Leben für die Geographie, Halle, Verlag Janos Stekovics 2000; A. Schach, Carl Ritter (1779-1859). Naturphilosophie und Geographie. Erkenntnistheoretische Überlegungen, Reform der Geographie und mögliche heutige Implikationen, Münster 1996.
last modify: 2010-10-19 15:51:01