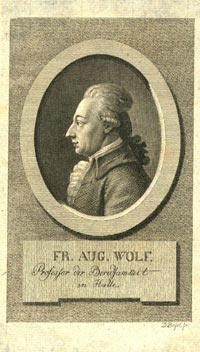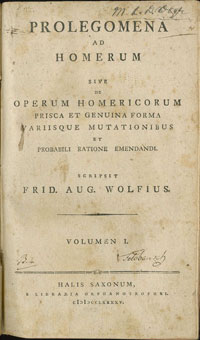 Friedrich August Wolf
Hainrode 1759 - Marseille 1824
Classical philologist, especially known for having formulated the so-called "Homeric question": the doubts over the authorship of Iliad and Odyssey. He studied in Göttingen under the classical scholar Christian Gottlob Heine, with whom he early came into conflict. In 1783 he was called to Halle University, where he stayed until the Napoleonic invasion and in 1807 he moved to Berlin. His last years were marked by a growing loneliness and by weak health. All these factors urged him to set out on a journey to Southern France, where he died in the summer of the same year.
Main works: Prolegomena ad Homerum sive de operum homericorum prisca et genuina forma variisque mutationibus et probabili ratione emendandi (Halle 1795); Vermischte Schriften und Aufsätze in lateinischer und deutscher Sprache (Halle 1802).
Bibliography: S. Cerasuolo (a cura di), Friedrich August Wolf e la scienza dell'antichità, Napoli 1997; R. Markner, G. Veltri (a cura di), Friedrich August Wolf. Studien, Dokumente, Bibliographie, Stuttgart 1999.
last modify: 2017-10-09 14:03:40