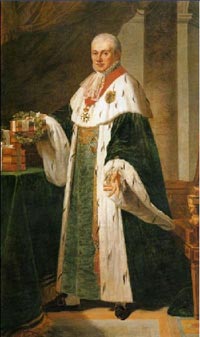 Jean-Pierre-Louis, marquis de Fontanes
Niort 1757 - Paris 1821
French poet and politician. In 1783 he published a verse translation of the Essay on Man of Pope. Even though he welcomed the Revolution, he protested against the slaughters of the Reign of Terror and, after the fall of Robespierre, he founded the «Mercure de France» with La Harpe and De Bonald. Friend of Chateaubriand and apologist of Napoleon, who made him president of the legislative chamber and, in 1808, Grand Maître of the University of Paris. He supported the Restoration and under Louis XVIII he became Marquis and pair.
Main works: Oeuvres de M. de Fontanes, recueillies pour la première fois et complétées d'après les manuscrits originaux, précédées d'une lettre de M. de Chateaubriand; avec une notice biographique par M. Roger, ... et une autre par M. Sainte-Beuve, 2 vol., Paris, Hachette 1839.
Bibliography: N. Alcer, Louis de Fontanes, 1757-1821: homme de lettres et administrateur, Frankfurt a.M.-Berlin-Paris, P. Lang 1994; M. Fumaroli, Louis de Fontanes (1757-1821), poète et grand maître de l'Université impériale, «Revue d'histoire littéraire de la France», juillet-septembre 2003, pp. 683-691; G.-É. Pillard, Louis Fontanes, 1757-1821: prince de l'esprit, Maulévrier, Hérault 1990; N. Savariau, Louis de Fontanes: belles-lettres et enseignement de la fin de l'Ancien Régime à l'Empire, Oxford, Voltaire Foundation 2002; A. Wilson, Fontanes (1757-1821), essai biographique et littéraire, Paris, Boccard 1928.
last modify: 2010-10-21 18:16:00