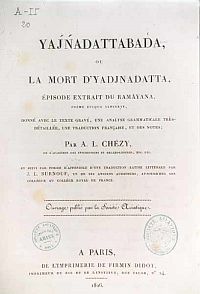 Antoine-Léonard de Chézy
Neuilly-sur-Seine 1773 - Paris 1832
French Orientalist, member of the Académie des inscriptions et belles-lettres. He Studied Turkish and Hebrew, then Arabic and Persian with Antoine-Isaac Silvestre de Sacy and Louis-Mathieu Langlès. Employed at the Cabinet des manuscrits orientaux of the Bibliothèque nationale, in 1803 he met Friedrich Schlegel. Professor of Persian at the École des langues orientales vivantes (1807), in 1815 he was offered the first chair of Sanskrit in Europe, which was about to be established at the College de France. Among his scholars there were Franz Bopp, Eugène Burnouf, Jean Loiseleur-Deslongchamps and Christian Lassen.
Main works: Medjnoun et Leïla, poème traduit du persan de Djâmy (Paris 1807); La Reconnaissance de Sacountala, drame sanscrit et pracrit de Calidasa, publié pour la première fois, en original, sur un manuscrit unique de la Bibliothèque du roi, accompagné d'une traduction française (Paris 1830).
Bibliography: Notice sur la vie et les ouvrages de M. de Chézy, lue à la séance publique de l'Académie des Inscriptions et Belles-Lettres, du 14 août 1835, par M. le Bon Silvestre de Sacy, secrétaire perpétuel, «Mémoires de l'Académie des Inscriptions et Belles-Lettres», nouvelle série, XII, 1835.
last modify: 2009-12-11 14:28:04