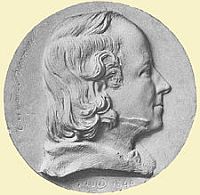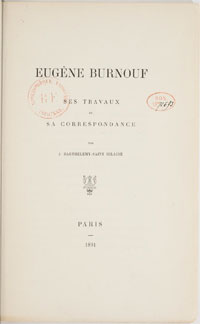 Eugène Burnouf
Paris 1801 - 1852
French Orientalist. Professor of grammar at the École Normale Supérieure (1829). In 1832, he succeeded A.-L. Chézy to the chair of Sanskrit at the Collège de France, position that he held until he died. The same year he was elected to the Académie des inscriptions et belles-lettres, of which he became perpetual secretary just before his death. B. contributed considerably to the knowledge of the Pali language and to that of Avestic.
Main works: Essai sur le Pali (Paris 1826); Vendidad Sadé, l'un des livres de Zoroastre (Paris 1829-1843); Commentaire sur le Yaçna, l'un des livres liturgiques des Parses (Paris 1833-1835); Mémoire sur les inscriptions cunéiformes (Paris 1838); Bhâgavata Purâna ou histoire poétique de Krichna (Paris 1840-1847); Introduction à l'histoire du Bouddhisme indien (Paris 1844); Lotus de la bonne loi (Paris 1852).
Bibliography: Ch. Lenormant, Eugène Burnouf, Paris, C. Douniol 1852; J. Barthélemy-Saint-Hilaire, Eugène Burnouf, ses travaux et sa correspondance, Paris, Chartres, impr. de Durand 1891.
last modify: 2017-10-10 11:42:52