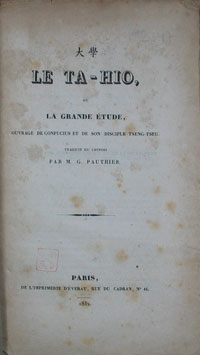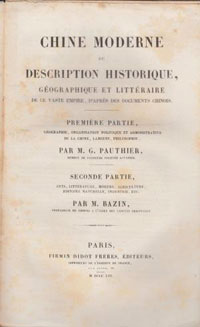 Jean-Pierre Guillaume Pauthier
Mamirolle (Doubs) 1801 - Paris 1873
French Sinologist, author of poems inspired by Romanticism. Member of the Société asiatique de Paris and of the Académie de Besançon, in 1833 he translated Essai sur la philosophie des Hindous by Henry Thomas Colebrooke.
Main works: Helléniennes, ou Élégies sur la Grèce, suivies d'un dithyrambe, et précédées d'une épître à M. Alphonse de Lamartine (Paris 1825); Le Ta-Hio, ou la Grande étude, ouvrage de Confucius et de son disciple Tseng-Tsen, traduit du chinois (Paris 1832); Chine ou Description historique, géographique et littéraire de ce vaste empire, d'après les documents chinois (Paris 1839); Confucius et Mencius. Les Quatre livres de philosophie morale et politique de la Chine, traduits du chinois (Paris 1846); Dictionnaire étymologique chinois-annamite, latin-français (Paris 1867).
Bibliography: Grand dictionnaire universel du XIXe siècle: français, historique, géographique, mythologique, bibliographique..., par M. Pierre Larousse, Paris, Administration du grand Dictionnaire universel 1866-1876; H. Van Hoof, Dictionnaire universel des traducteurs, Genève, Slatkine 1993.
last modify: 2017-10-10 09:34:42