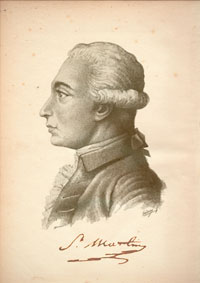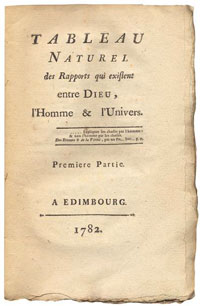 Louis Claude de Saint-Martin
Amboise 1743 - Paris 1803
Philosopher and French mystic, called le philosophe inconnu. Born noble and a military man by profession, influenced by the Jewish-Christian theurgy of Martines de Pasquilly, he left the army, and dedicated himself from 1788 to the study of the German mystic Jacob Böhme, whose writings he translated.
Main works: Tableau naturel des rapports qui existent entre Dieu, l'homme et l'universe (Lyon 1782); L'Homme de désir (Lyon 1790); Ecce homo (Lyon 1790); Lettre à un ami, ou Considérations politiques, philosophiques et religieuses sur la Révolution française (Paris 1795); Le ministère de l'homme-esprit (Paris 1802).
Bibliography: R. Tourlet, Notice historique sur les principaux ouvrages du Philosophe inconnu et sur leur auteur Louis-Claude de Saint-Martin, in Mercure de France, Archives littéraires de l'Europe, ou mélanges de littérature et d'histoire et de philosophie par une société de Gens de Lettres..., tome I, Paris, Henrichs, janvier-mars 1804, pp. 320-336; N. Jacques-Lefèvre, Louis-Claude de Saint-Martin, le Philosophe inconnu, Paris 2003.
last modify: 2017-10-12 15:44:13