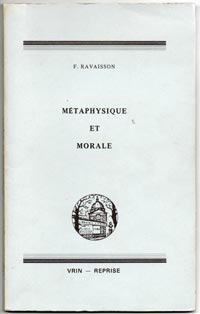 Jean-Gaspard-Félix Ravaisson-Mollien
Namur 1813 - Paris 1900
Qualified as a philosophy teacher (1837), with a doctorate in letters (1839), Félix Ravaisson greatly influenced 19th century French philosophy. He was of the same school as Victor Cousin, but differed from him. He drew on his work as Inspector of public libraries, then from 1852 to 1888 as Inspector General of higher education and from 1870 as Curator of antiquities and modern sculpture at the Louvre to develop original research areas. These ranged from the history of ancient philosophy to that of contemporary philosophy, and from archaeology to the history of art.
Main works: Essai sur la Métaphysique d'Aristote (t. 1, 1837; t. 2, 1846); De l'Habitude (1838); La philosophie en France au XIXe siècle (Paris 1868); Testament philosophique et fragments (Paris 1933); Essai sur la Métaphysique d'Aristote, fragments du tome 3, hellénisme, judaïsme, christianisme (texte établi par Ch. Devivaise, Paris 1953).
Bibliography: J. Dopp, Félix Ravaisson. La formation de sa pensée, Louvain, Ed. de l'Institut supérieur de Philosophie 1933; J. Cazeneuve, La philosophie médicale de Ravaisson, Paris, P.U.F. 1958; D. Janicaud, Une généalogie du Spiritualisme français, La Haye, Nijhoff 1969 (Ravaisson et la métaphysique, Paris, Vrin 19972); D. Janicaud, F. Ravaisson. L'Art et les mystères grecs, Paris, L' Herne 1985.
Online resources: C. Mauve, "De l'habitude" comme palimpseste (Herder, Quinet, Ravaisson), in «Les Etudes philosophiques», n° 1, 1993 (PDF)
Christiane Mauve (Université Paris 8)
last modify: 2012-04-05 19:23:00